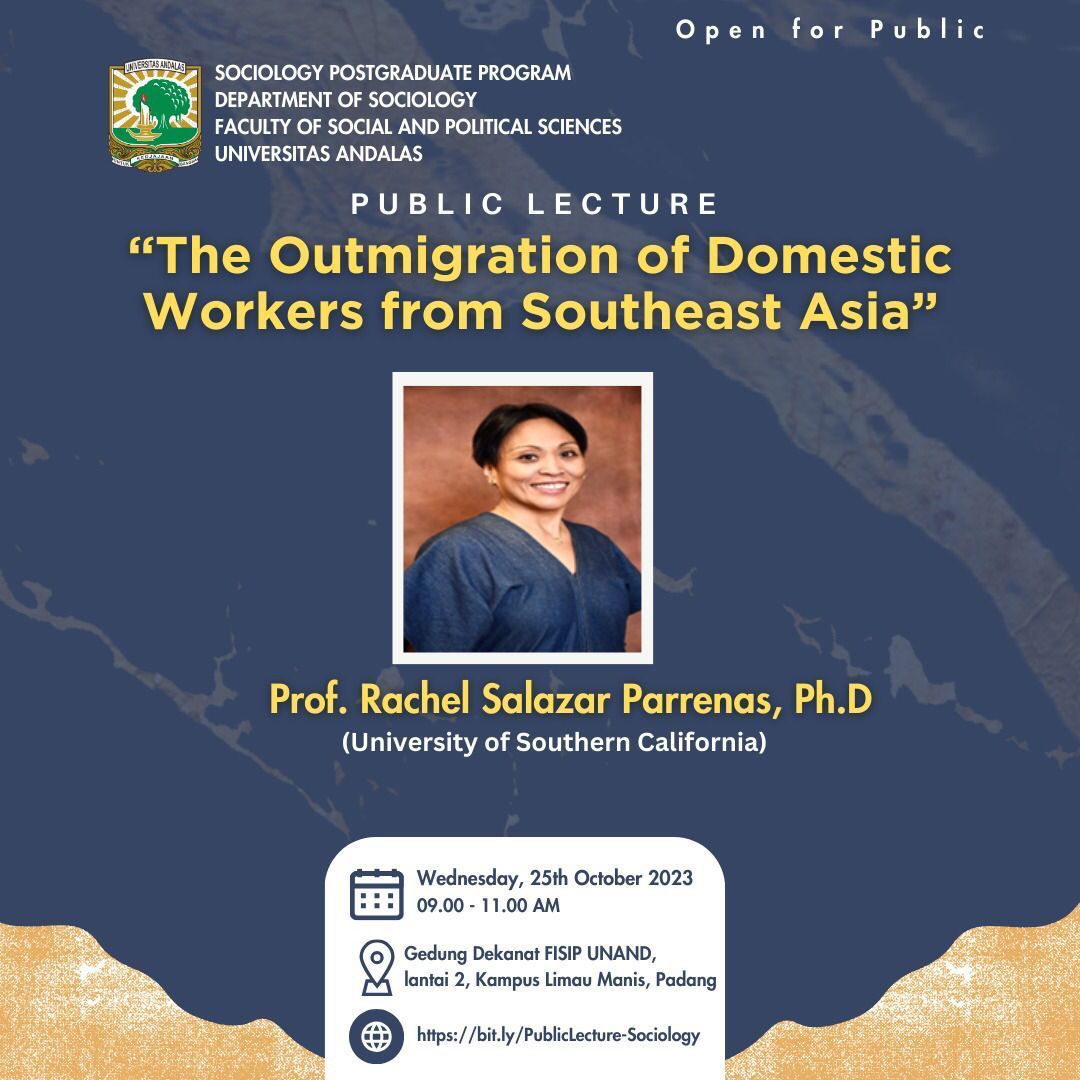 Prof. Rhacel Salazar Parrenas, PhD Delivers Public Lecture on Outmigration of Domestic Workers from Southeast Asia
Padang-In an academic stimulating event, FISIP Universitas Andalas proudly hosted a public lecture on the outmigration of domestic workers from Southeast Asia on Wednesday, October 25, 2023. The distinguished speaker, Prof. Rhacel Salazar Parrenas, PhD, from the University of Southern California, captivated the audience with her profound insights into a complex and vital subject. The public lecture held in the Seminary Room of the faculty's 2nd Main Building, was initiated and chaired by Dr. Jendrius, M.Si, who not only served as a dedicated committee member for the event but also holds the esteemed position of being the Head of the Master's Sociology Study Programme at FISIP Universitas Andalas.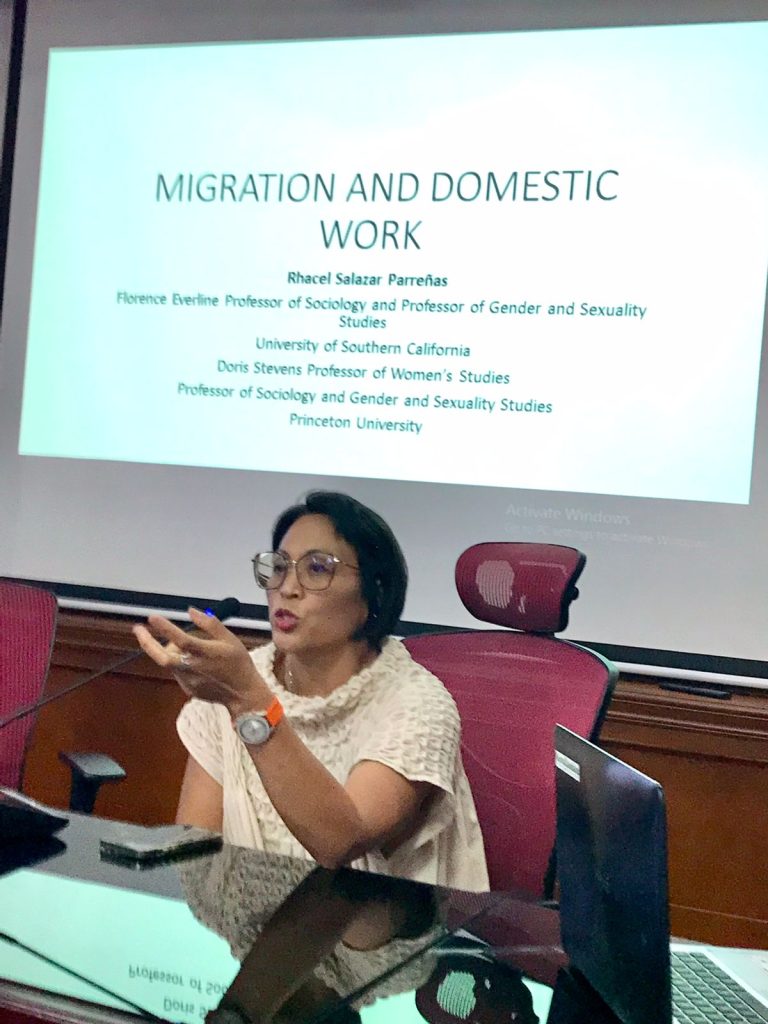 Dr. Jendrius, who opened the event, emphasized the significance of understanding the complexities and challenges that domestic workers from Southeast Asia face when seeking employment opportunities abroad. He also praised Prof. Parrenas for her dedication to the study of migration patterns and their impact on individuals and societies.
Prof. Parrenas, renowned for her pioneering work in migration studies, drew an engaged audience comprising lecturer, master students. Her lecture delved deep into the socioeconomic and cultural dynamics surrounding the outmigration of domestic workers from Southeast Asia. It was a highly anticipated event, offering fresh perspectives on a subject of paramount importance to the region.
Prof. Parrenas, a leading authority on the subject, provided valuable insights into the experiences, vulnerabilities, and resilience of domestic workers from Southeast Asia. Her research, which draws from extensive fieldwork and academic expertise, has contributed significantly to the global discourse on migration and labor issues.
The event concluded with a lively question-and-answer session, in which the audience had the opportunity to engage directly with Prof. Parrenas, gaining further insights and clarification on the topic. Attendees left the lecture inspired and enlightened, ready to contribute to the ongoing dialogue about the outmigration of domestic workers from Southeast Asia.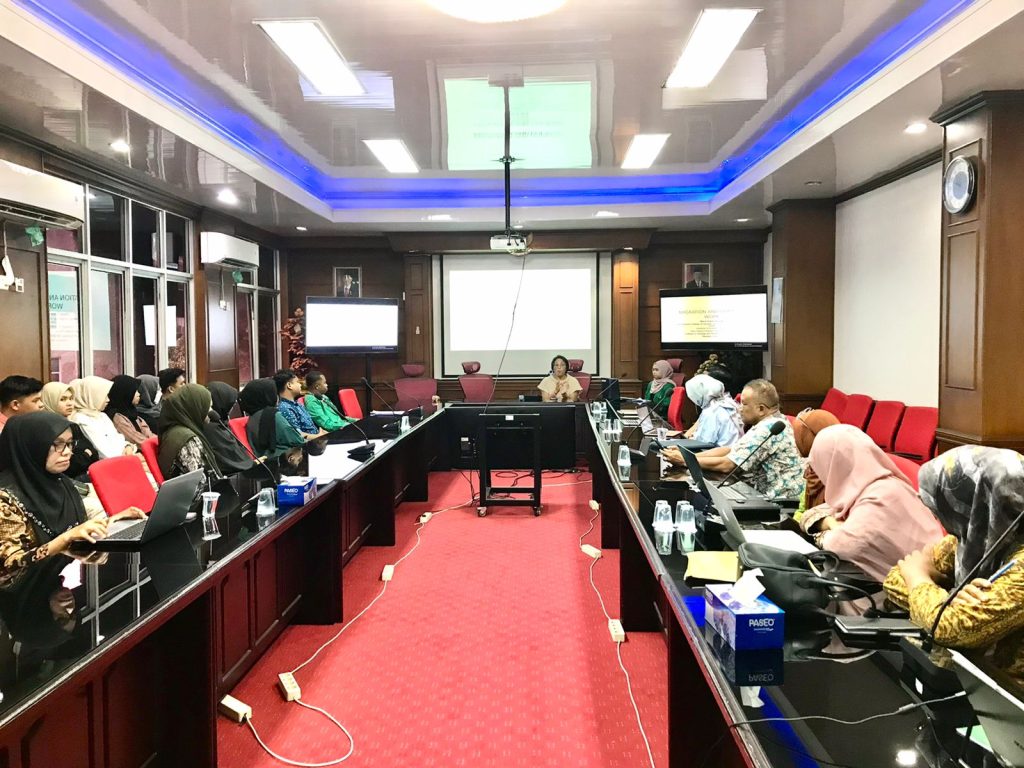 This public lecture serves as a testament to FISIP Universitas Andalas' commitment to fostering academic excellence and creating spaces for informed discussions on critical global issues. The university continues to provide a platform for experts like Prof. Rachel Salazar Parrenas, PhD, to share their knowledge and research, thereby enriching the academic community and society at large.